Lighting a candle is more than just simple entertainment; it's an experience that can create the perfect ambience for any occasion. However, many people following the eco-friendly and vegan lifestyle are concerned about animal well-being or the environmental impact of using candles.
The ethical vegan lifestyle is not just about the food you put on your plate. Many vegans are also concerned about sustainability and humans' impact on the environment. This lifestyle means they want to know not only what a product is made of but also how it's made and whether or not it's sustainable. So let's dive into the inside of a candle jar!
Different types of candle wax
Paraffin Wax
When it comes to candles, veganism and sustainability go hand in hand. The vast majority of candles on the market are made with paraffin wax, which is a petroleum by-product. Even though paraffin is vegan, it is often mixed with stearic acid to harden the wax and increase the burning time. Stearic acid is usually sourced from animals, making the candle non-vegan. Furthermore, paraffin wax is harmful to the environment and human health as it soots and emits pollutants and particles that pose cancer risks and other health issues. As paraffin is a non-renewable resource, it is not sustainable either. [1, 2]
Beeswax
Beeswax is another popular wax used in candles. Unlike paraffin, it is renewable and sustainable as it comes from the honeycomb of bees. In addition, it doesn't soot or releases harmful chemicals when burned. Some candle makers use ethically-sourced beeswax, which means that the bees are not harmed in the process of collecting the wax. For some people, this makes beeswax a vegan-friendly option, as these candles are cruelty-free. However, some vegans might not be comfortable using beeswax because it involves exploiting animals.
Natural vegan waxes
Fortunately, there are vegan and sustainable alternatives to paraffin and beeswax candles. The most popular vegan candle waxes are soy, palm, coconut, rapeseed wax or a mixture of some of them. All of these come from plants and are therefore renewable resources.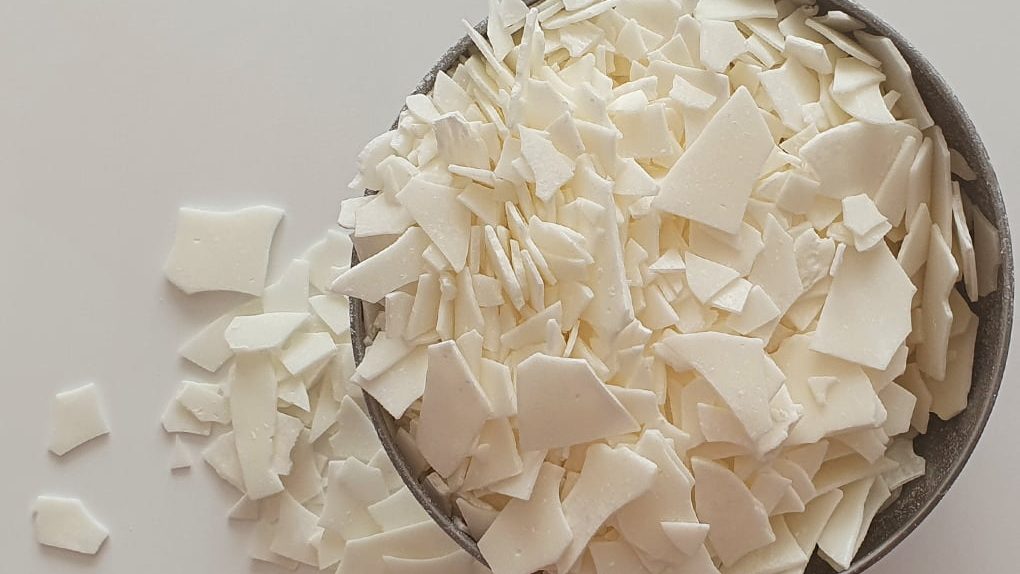 Coconut wax
Coconut wax is made from the meat of coconuts. It is a sustainable vegan alternative as coconuts are a renewable resource. Coconut wax candles also emit less soot than paraffin candles, and they have a higher melting point, meaning they can hold more fragrance.
Palm wax
Palm wax candles are known for their long-lasting burn time and beautiful appearance, as they often form crystals on the surface of the wax. Palm wax is made from the oil of palm trees. If it is responsibly sourced and biodiversity assured, it is a sustainable vegan alternative as palm trees are a renewable resource.
Rapeseed wax
Rapeseed wax is made from rapeseed oil. It is a vegan-friendly and sustainable choice as rapeseeds are a renewable resource. Rapeseed wax candles have a clean and soot-free burn.
Soy wax
Soy wax is made from soybeans, and it is the most popular vegan candle wax. It is biodegradable and non-toxic, which makes it a sustainable choice. Furthermore, soy candles burn cleaner and longer than paraffin candles, emitting less soot.
We truly think that responsibly and ethically sourced soy wax is one of the best options for candles, therefore we use it to make our scented soy candles.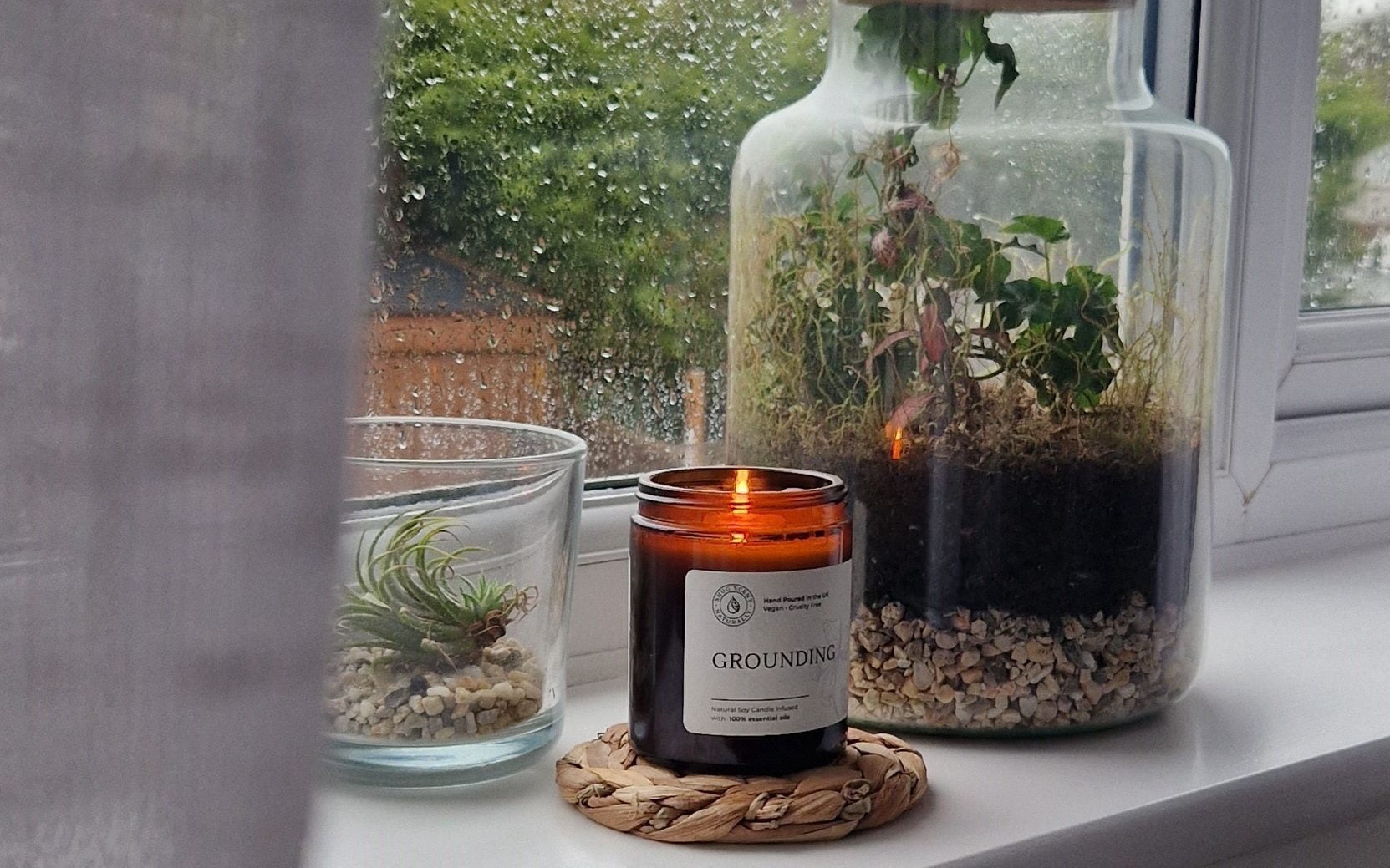 So which one to look for?
When buying a candle, make sure to check the label to see what type of wax it is made of. If you want a vegan and sustainable candle, look for one made with soy, palm, coconut, rapeseed wax or a mixture of some of them.
How about scents in candles?
The majority of candles on the market are scented. The most common way to scent a candle is by using fragrance oils, essential oils or a mixture of both.
Fragrance oils
Even though animal ingredients have been used in perfumery (musk, ambergris, civet etc.) and fragrances were tested on animals, nowadays, most synthetic fragrance oils were reformulated and are now considered vegan. However, it does not change the fact that most synthetic fragrance oils are made in the labs from chemicals and can harm humans. They often contain phthalates, which are endocrine disruptors and have been linked to various health problems such as reproductive issues, obesity and cancer. [3, 4]
Essential oils
Essential oils, on the other hand, if they are sourced responsibly and ethically, are vegan and sustainable as they are derived from plants. They are also less likely to be harmful to humans as they don't contain any synthetic chemicals. Plus, essential oils smell great and have various aromatherapy benefits. For example, lavender oil is known for its calming and relaxing properties, while lemon oil can boost your mood and energy levels.
We adore essential oils and the aromas they provide therefore all of our vegan candles are scented enterally with essential oils.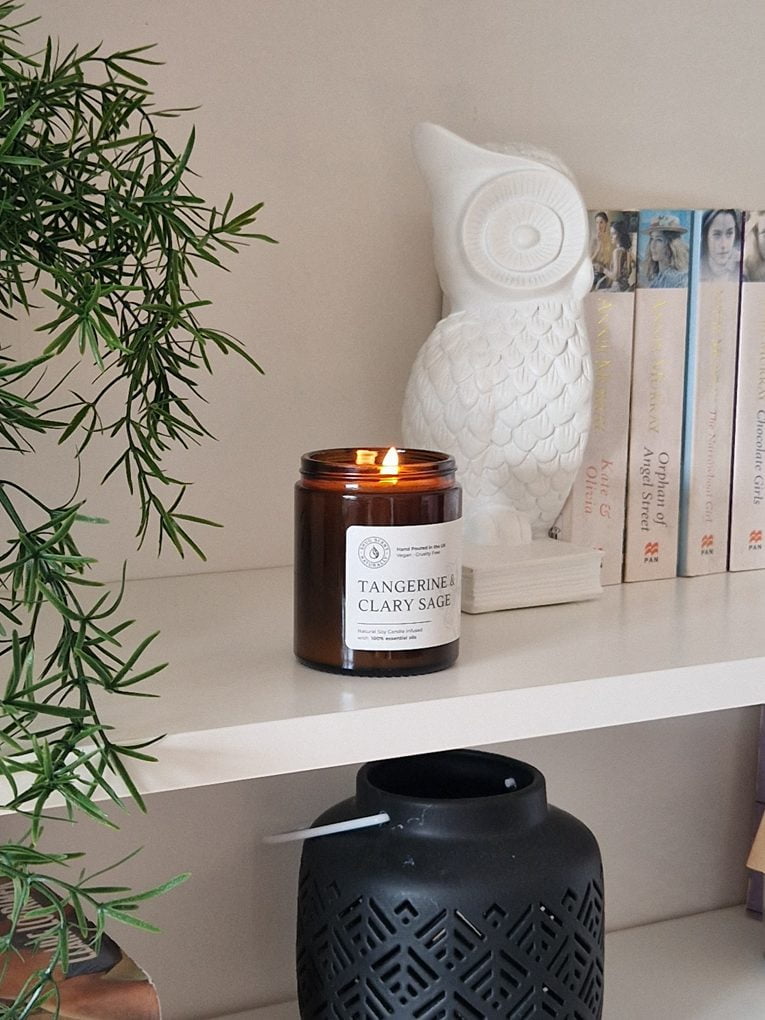 Fragrances and essential oils can share the same ingredients
An interesting fact is that fragrance and essential oils can share the same ingredients. To achieve a specific scent in fragrance oils, perfume companies use both artificial ingredients and ingredients extracted from plants (which are natural). For example, linalool and limonene are terpenes that occur naturally in essential oils like bergamot oil and orange oil, respectively. However, because they are being mixed with synthetic ingredients, they can't be called 100% natural anymore. In addition, they will not have the same aromatherapy benefits as when used in their pure form – essential oils.
Which scents are better?
When choosing scented vegan candles, check the label to see what type of scent is used. If it is fragrance oil, make sure that it is vegan, silicon-free, CMR-free and phthalate-free; if it is an essential oil, make sure that it is ethically sourced.
Let's not forget candle wicks
The wick is the part of the candle that burns. The most common wicks are made from cotton, linen and wood and are vegan. However, some companies use beeswax or paraffin and stearic acid mixture to stiffen the wicks, making them non-vegan. Therefore, when buying a vegan candle, make sure to check the label to see what type of wick is used.
At Snug Scent, we use ONLY natural cotton wicks treated with vegetable wax. Therefore, you can rest assured you are getting the most vegan experience possible.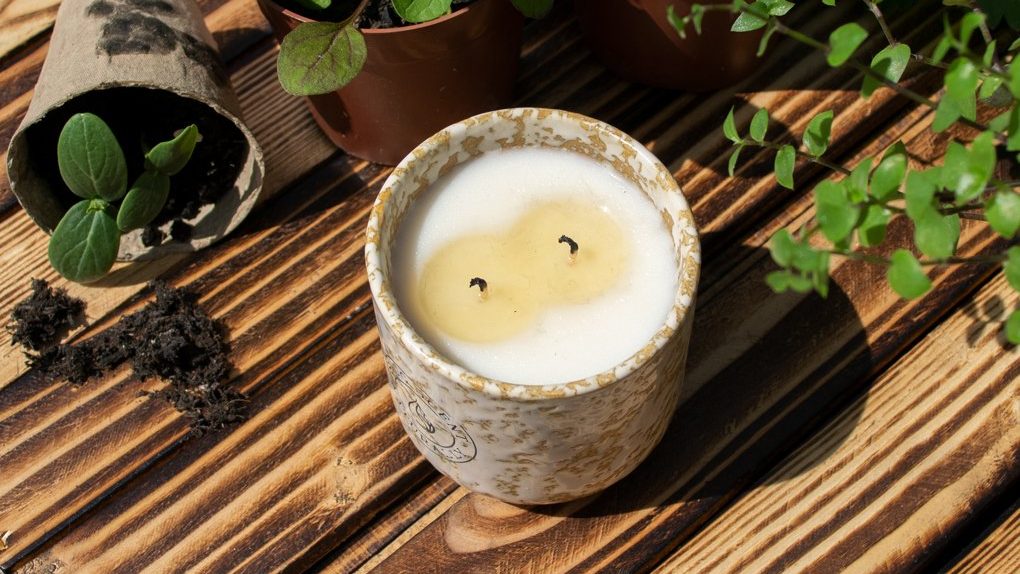 Is there anything else?
Yes, let's not forget about the glue! Most of the candle wicks are attached to the bottom of the vessel with non-vegan adhesives – glue. Usually, glue is made from animal products like hooves or bone char. Other times, it can be made of synthetic rubbery mixtures. Even though the latter one is made of petroleum ingredients, vegans usually accept it.
Things to consider
It's not just about the contents of the candle but how it's made too. If animal habitats are damaged in making vegan products, they might not be as vegan-friendly as you'd like. Palm oil wax is a good example – while the candle may be vegan, the process of producing the palm oil can damage ecosystems and ruin habitats. Harming local habitats not only makes the candle non-vegan but also non-cruelty-free.
We ensure that our suppliers provide us with wax that is not only vegan but also ethically and sustainably sourced, meaning it's not harming the habitats. In addition, we are planting a tree with every order to help restore our planet!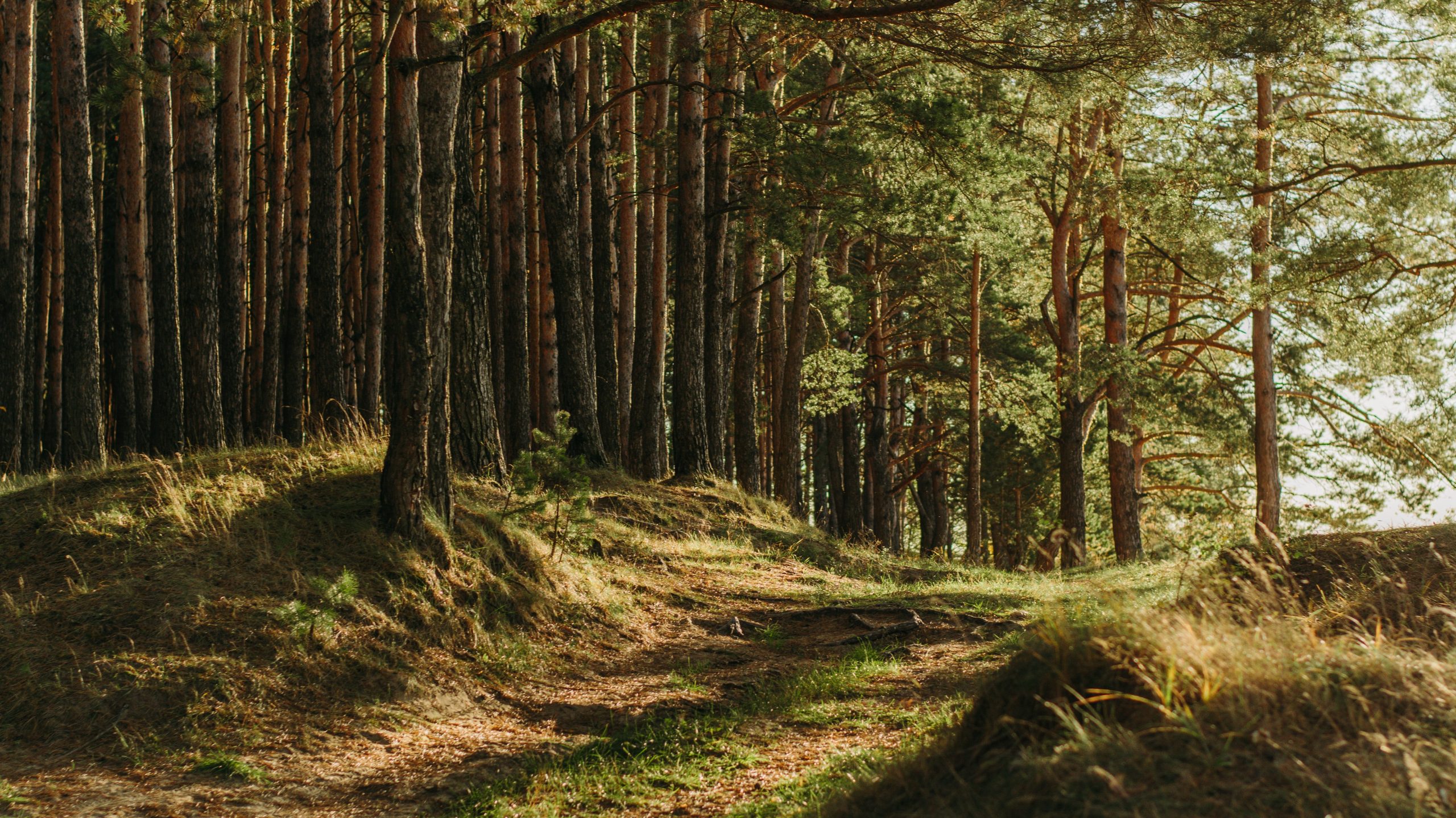 Do the best you can
It can feel like a bit of a minefield, but veganism is about doing the best you can with the information that you have. As long as you're making an effort to avoid animal products, checking the company's sustainability policy (if they have one), and being mindful of the environment, you're doing a great job!
Our approach to vegan candles
We've got a sumptuous selection here at Snug Scent if you're looking for vegan and sustainable candle options. Our candles are made with responsibly sourced and sustainable pure soy wax and are scented with pure essential oils. In addition, we use untreated cotton wicks that are attached with vegan glue. Plus, we use recycled and recyclable materials for our packaging. So why not shop our vegan candles? Your nose, the environment and the animals will thank you for it!
Frequently Asked Questions